On My Wishlist is a weekly meme hosted by
Book Chick City
. You list all the books you really want but haven't actually bought it yet. Whether they're old or new coming books, it's all up to you.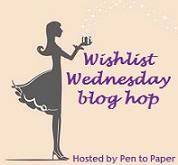 Wishlist W
ednesday is a weekly meme hosted by Pen to Paper

where I will post about one book per week that has been on my wishlist and I really can't wait to get it into my shelf.
Title : Mockingjay
Author : Suzanne Collins
Young Katniss Everdeen has survived the dreaded Hunger Games not once, but twice, but even now she can find no relief. In fact, the dangers seem to be escalating: President Snow has declared an all-out war on Katniss, her family, her friends, and all the oppressed people of District 12. The thrill-packed final installment of Suzanne Collins' Hunger Games trilogy will keep young hearts pounding. -goodreads
I know, I know.. for someone who really love THG series, I'm so late right? Well, the Indonesia version has just published yesterday! I haven't gone to the bookstore yet, but I hope I can get it ASAP. Sooooooo can't wait to read this one.