On My Wishlist is a weekly meme hosted by
Book Chick City
. You list all the books you really want but haven't actually bought it yet. Whether they're old or new coming books, it's all up to you.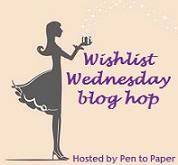 Wishlist W
ednesday is a weekly meme hosted by Pen to Paper

where I will post about one book per week that has been on my wishlist and I really can't wait to get it into my shelf.
Title : Cinderella Ninja Warrior
(Twisted Tales #1)
Author : Maureen McGowan
In this fast-paced story full of adventure and romance, Cinderella is more than just a servant girl waiting for her prince—she's a tough, fearless girl who is capable of taking charge of a dangerous situation. Seeking to escape the clutches of her evil stepmother, Cinderella perfects her ninja skills and magic talents in secret, waiting for the day when she can break free and live happily ever after. In a special twist, readers have the opportunity to make key decisions for Cinderella and decide where she goes next—but no matter the choice; the result is a story unlike any fairy tale you've ever read! -goodreads
I've seen this book at local bookstore a couple times but haven't bought it yet. There were always something I need to buy first. Hopefully I can get it this weekend.