On My Wishlist is a weekly meme hosted by
Book Chick City
. You list all the books you really want but haven't actually bought it yet. Whether they're old or new coming books, it's all up to you.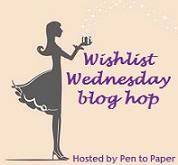 Wishlist W
ednesday is a weekly meme hosted by Pen to Paper

where I will post about one book per week that has been on my wishlist and I really can't wait to get it into my shelf.
Evie Taylor, a girl with a big heart, gets lost in the big city. For the past two years, Evie has lived an invisible life in London. Her neighbours think she's just moved in, her sister mistakes her for a live-in nanny, and even Evie's manager at work can't remember her name. But all that is about to change …this Christmas has brought a flurry of snow and unimaginable possibilities into town. Evie works in the stockroom of an old-fashioned, family-run, London fashion department store. Hardy's is a beautiful, wood-panelled jewellery box of a building, but it's in dire need of a makeover. One day Evie overhears that if the entire store's takings don't turn round by Dec 26th – 3 weeks' time – the family who own it will be forced to sell to one of the big chains. Hardy's is in need of a Christmas miracle. Determined to save her beloved store, Evie hatches a plan to secretly transform it into a magical place to shop again. But has the time come for her to be noticed too? When an accidental romantic encounter with handsome, enigmatic Joel gives her the chance of a whole new identity, she takes it. -goodreads
I fell in love with the cover at the first sight. When I read some reviews about it, I knew that I had to have this book! Just hoping local bookstore will have it soon.
- What's on your list? -