On My Wishlist is a weekly meme hosted by
Book Chick City
. You list all the books you really want but haven't actually bought it yet. Whether they're old or new coming books, it's all up to you.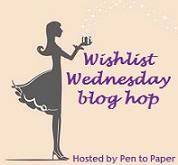 Wishlist W
ednesday is a weekly meme hosted by Pen to Paper

where I will post about one book per week that has been on my wishlist and I really can't wait to get it into my shelf.
It is 950 B.C.E., and King Solomon rules Jerusalem with a steely hand; a hand on which gleams a magic ring of immense and unforgiving power. Solomon has just begun work on his marvelous temple, charging Khaba, a formidable magician in his royal court, to oversee its construction. The workforce is an ill-behaved bunch of demons, a particularly unruly djinni named Bartimaeus among them. True to form, Bartimaeus promptly gets kicked off the temple project and assigned the even more miserable task of hunting bandits in the desert. There he crosses paths with Asmira, a highly skilled and loyal captain of the Queen of Sheba's guard, on a suicidal mission to save her country from Solomon's imminent attack. Of course, Bartimaeus has no intention of helping her. That is, until Asmira makes him an offer he cannot refuse. . . . - goodreads
I really love Bartimeus Trilogy. I bought the Indonesian version of Bartimeus Trilogy so I have to buy the Indonesian version of The Ring of Solomon as well. The publisher haven't announced yet when they will publish it :( I can't wait to read it. So please~ Gramedia, publish it ASAP!